Fäboda Outdoor Recreation Area in Jakobstad
Fäboda is where stunningly beautiful nature meets gorgeous sandy and rocky beaches.
No wonder this place has been the summer oasis of the residents of Jakobstad for decades. People come here all year round to enjoy all kinds of outdoor activities: swimming, sunbathing, berry-picking, fishing, hunting, hiking, biking and cross-country skiing.
The sunworshipper's paradise

There are three public beaches in the Fäboda area, about 10 km from downtown Jakobstad: the beach at Fäboda café, Storsand and Lillsand. All beaches in Fäboda are shallow and child-friendly but also adults can go swimming after wading further out a little.
The most popular of the beaches is Lillesand, resembling a lagoon with its natural rounded, curved shape. Lillsand is equipped with a barbecue area, changing rooms and toilets.
The beach at Fäboda cafe, situated right next to Lillsand, is a bit smaller and bordered by low rocky cliffs.
Storsand is a calmer and wider sandy beach located south from Lillsand. The beach is a part of Natura 2000 areas, a network of nature protection areas. Storsand's soft sand dunes are perfect for sunbathing and making sand castles.

Fäboda beyond the beaches

Fäboda is much more than just sandy beaches. The area's unique nature attracts visitors all year round.
Visitors can admire the smooth cliffs, breath the refreshing sea air and watch the sunset from the shore. The beautiful rocks on the beach are also a popular location both for nature photographers and for various other photoshoots.
In Fäboda there are many types of hiking trails of varying length and purpose. You can ramble along short and well-marked trail or take an up to 33 km long hike. The peaceful forests are also perfect for cross-country skiing, mountain biking and berry-picking. There are huts, an observation tower, picnic and barbecue areas along the trails. For the children there is also a nature trail in the area. Along the trail there are nature tasks, animal sculptures, and a balance course.
Read more about the hiking trails and the accesible nature trail in Fäboda
Map of Fäboda-Pörkenäs hiking trails
Restaurant Fäboda Kaffestuga is located nearby the public beaches.
At Gnista Glamping you have a unique opportunity to experience Fäboda like never before. Gnista Glamping consists of two large, furnished tents that can be booked when you want to enjoy peaceful days by the sea.
Lillsand Matkaparkki, caravan park for 12 motorhomes (6 with electrical connection), is situated nearby the beaches. Caravan park is open 10.5.-30.9. Read more and booking: matkaparkki.com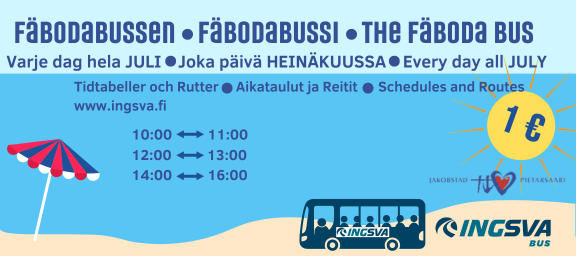 In July 2023 you can take the bus to Fäboda
During the month of July, a bus will be operating between Jakobstad and Fäboda three times a day, 7 days/week. A one-way ticket for the bus costs 1 € and it is free for children under 4 years.
Ingsva bus company is operating the route with a fully sized bus with 60 seats. The bus leaves from ABC in Jakobstad at 10.00, 12.00 and 14.00 and makes the following stops:
Kållbyvägen bus stop (Permo roundabout) at 10.03, 12.03 and 14.03
Prisma (Skolgatan bus stop) at 10.05, 12.05 and 14.05
Campus Allegro (Köpmansgatan bus stop) at 10.10, 12.10 and 14.10
Neste Södra Tullen bus stop at 10.15, 12.15 and 14.15
Sale Vestersundsby at 10.20, 12.20 and 14.20
The bus arrives in Fäboda at 10.30, 12.30 and 14.30 and returns from Fäboda to Jakobstad at 11.00, 13.00 and 16.00. The bus fare can be paid either with cash or card. The bus cannot be booked in advance, nor can you take bikes on the bus. Dogs are welcome on the bus for a fee of 1 €/way.